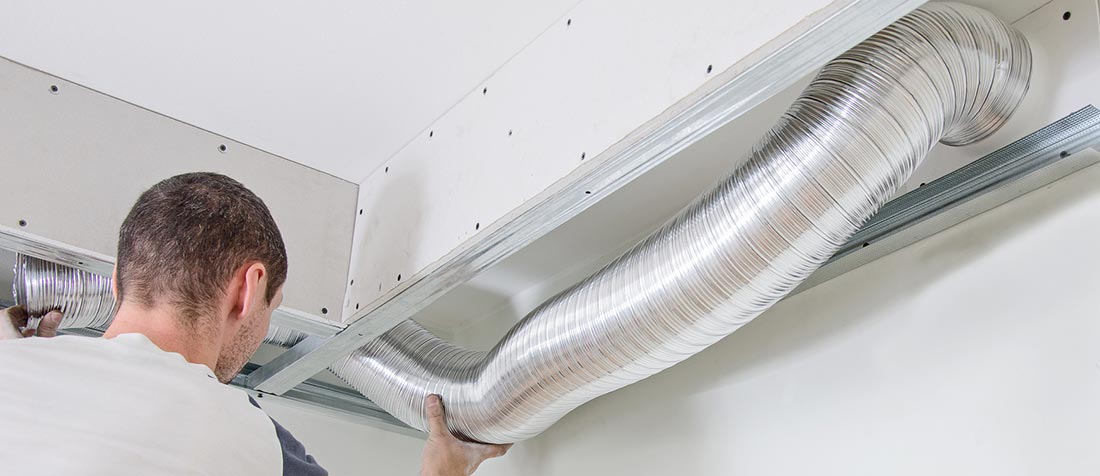 Is there an excessive circulation of moist air around your house?
Is a part of the dryer vent piping damaged due to a renovation mistake?
Professional dryer vent repair services can keep you safe and help you save money!
Dryer vent systems have flexible interior hoses that provide an escape for the hot air and excess lint that are produced by your dryer. These important ducts also allow you to move your dryer as and when needed to facilitate future repairs and cleanings because of their flexibility. However, one of the downsides of them being flexible is that they are prone to damage. Air Duct Brothers is knowledgeable in dryer vent repairs, and can help clean, repair or replace your dryer vents as a routine service.
What is Dryer Vent Repair?
Dryer vent repair is something you need when your clothes take more than one cycle to dry, particularly towels and jeans. Also, your dryer may repeatedly stop during a cycle and that is actually a sign of overheating due to a blocked or damaged vent. You will need to repair your dryer vents too when you notice a moldy smell after every dry cycle. When you find lint on your clothing and there is no visible lint on the lint screen, it also means that your dryer vent is not working the way it should and repairs have to be facilitated before further damage occurs.
Comprehensive Repair Services
There are a lot of things that goes into a quality repair service. We are able to update your vents to meet the latest code compliance, replace termination outlets that are broken, remove any prohibited screws or fasteners that protrude into exhaust ducts, repair breaks in line, replace broken duct supports, re-tape joins wherever necessary as well as replace vinyl or foil ducts with lasting and rigid metal venting materials.
We Do More Than Just Repair!
We take a great deal of pride in our customer service and we strive to leave you fully satisfied after we are done with each repair. Our repair services will help eliminate a potential fire hazard and ensure that your dryer vents are cleaned and fully-functional. This way, there will be fewer chances of carbon monoxide poisoning and a mold problem.
Air Duct Brothers is Your Best Partner in Tri-State Area for Dryer Vent Repair
Air Duct Brothers is able to assist you with all of your repair needs! We can fix damaged ducts that may have come apart in your crawl space, attic or ceiling. We know that the dryer vent heating can become detached over time, causing restricted airflow as well as a faster accumulation of lint.  In many cases, builders who implement subpar practices and work in a hurry may use a wrap of duct tape to seal the joints in between sections of your dryer vent system. This increases the heat and humidity levels around the dryer and will degrade the seal, causing the duct to come apart. During these unfortunate circumstances, we can come to your rescue.
Whether you have outdated vents or broken ducting joints, we are your go-to for professional dryer vent repair. Do not hesitate to contact us today to schedule your dryer vent repairs.